Welcome Future Instructor!
Congratulations!

You may have met our Founder and Director, Natan Verkhovsky, M.Ht.,
at a networking event, or you've been
personally referred or invited to join our

world-calibre team of experts!

Come and share your magic through
the most
impactful, interactive
e-learning platform available anywhere.


You wouldn't be here if you weren't
already recognized in your
Industry as having a huge amount of
Education, Experience and Expertise

- a bone fide Expert Practitioner!
A few words from current Instructors
#so unexpected | #this is awesome | #has the highest quality features | #rocked my business | #is the best place| #propelled my practice
Benefits to
Joining Us Today!
For Instructors:
*Access to best-in-class Learning Management System (LMS from LearnWorlds) software with unlimited landing pages and our incredibly easy to use, award-winning Video Editor and Page Builders - you are fully support, with onboarding video and community resources to guide you quickly and easily to bring your existing content over to the platform


* Add an additional revenue stream with an unlimited price tag for the upper level programs

*Join a worldwide panel of expert practitioners and professionals to network, collaborate and add new value and content to your existing programs


*Be advertised and recognized as an expert by an additional outside body - it has more weight to join and be promoted by a group of others than to loudly sign your own praises


*Make all your existing materials interactive - turn content into courses, quickly and easily. As an Instructor you get to decide your curriculum, what you'll teach and what constitutes a passing grade and just how interactive you want to make this course


*Share and spread your message, your vision and your magic even farther than you currently are by adding your momentum to a cause - we actively support several charitable projects, organizations and activities around the world!

We believe that Education
must be Transformational and
not just Informational!
A few more kind words from
our current Instructors
#so unexpected | #this is awesome | #has the highest quality features | #rocked my business | #is the best place| #propelled my practice
Would you like to be SUPPORTED as you create your Courses?

And would you like to be PROMOTED, worldwide, after?!
We COLLABORATE, SUPPORT and PROMOTE
like no other Academy!

Take a look at what we have to offer our Instructors - Day and Night from the rest!

A Few Direct Reviews
from:
www.TrustPilot.com about LearnWorlds -
our Award-Winning, Best-In-Class Platform Partner that The Essential Academy is built on
"5 stars: Excellent
LearnWorlds is a great course platform!
I am starting up an online course business and was advised to use another learning platform. I did not really feel happy about that choice for different reasons and started to look around.
There seems to be quite a few course platforms out there and I signed up for the quite common free period on 5 different platforms and read quite a lot of reviews for 1 or 2 more.
The reason I stuck with LearnWorlds was that I think their learning environment is the best I could find.
- Interactive videos
- Quizzes
- Certifications
- E-book creator
- E-book viewer that allows the students to highlight and comment
-etc.
I really feel I have made the right decision after subscribing and I have no regrets!
If there are any problems their support team answers quickly and they are really helpful to pass on suggestions to their programmers.
I think you will not be disappointed if you choose their platform!
Martin Book"

"5 stars: Excellent
LearnWorlds are in a league of their own!
Updating my review:
LearnWorlds will soon be recognised as the GLOBAL authority in online teaching... they stand out above the rest and their promises are REAL.

Read my older review (left earlier today), but know that my update is to include "Julie" - she's another angel of the LearnWorlds' original Support Squad - rocking hard for their customers.

Thanks for the assist today Julie, you and the team have been awesome.

Don't change the way you do things guys/gals - your methods are untouchable... (Original review below)...

Exactly what I've been searching for!

I have only just signed up with LearnWorlds, but I must say that they have earned 5 Stars for being genuine and worthy of recognition.

I had a terrible experience with Teachable, and so decided to try LearnWorlds instead, best move I made so far.

The interface is so much more advanced and user-friendly, bright atmosphere, and full of functionality that's been geared towards successful outcomes for all involved.

Let me just say that I am seriously impressed with LearnWorlds' Support Team (especially Pit, Xenia, and Dora) - never before have I experienced a better support structure, with real people who are serious about their roles.

No better team out there than LearnWorlds' "support squad" ... Solid!

Thanks everyone!
Terese Blom"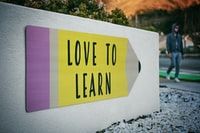 Click the BUTTON below to be taken to the
Registration and Onboarding Course
page for New Instructors